Highest risks in North Florida Friday 3 to 10 pm
Tornado potential in strongest cells
River and areal flooding also possible
The primary thunderstorm hazard will be damaging wind gusts up to 60 mph, although the strongest cells might also rotate and pose a tornado risk or produce hail. National Weather Service Meteorologist Brynn Kerr outlined a large area of north and central Florida as having a "slight risk" of severe thunderstorms, which is a level two on a scale of five, in her overnight update from the Storm Prediction Center. The timing of the greatest risks is noted on the map above or listed below.The times listed represent the most likely arrival and exit times of possible severe thunderstorms.
Panama City to Tallahassee: Friday 4 to 11 am
Cross City to Lake City: Friday 12 to 7 pm
Cedar Key to Gainesville to Jacksonville: 2 to 10 pm
Inverness to Ocala to Palatka to St Augustine: 4 pm to 2 am
Tampa to Orlando: 8 pm to 3 am
Sarasota and Fort Myers to Melbourne: 11 pm to 5 am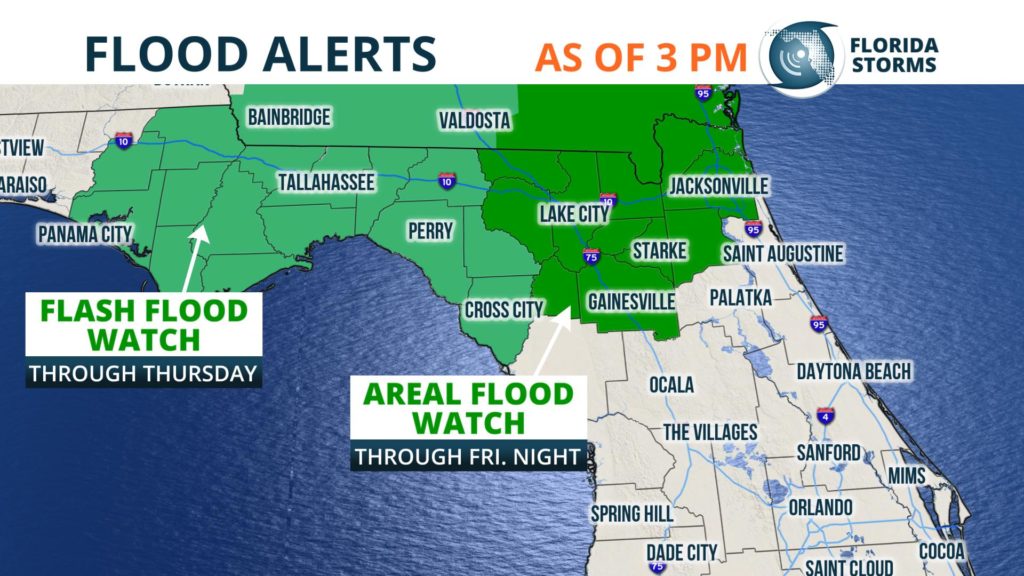 This will be the third front in as many weeks to move through the Sunshine State, dumping heavy rain across sections of the panhandle and portions of North Florida. A Flood Watch has been issued for much of northeast and north-central Florida, where rainfall totals of two to four inches are possible through Friday night.  Several rivers are already in minor or moderate flood stage, and forecasters at the National Weather Service in Jacksonville and Tallahassee have advised that Friday's heavy rain will likely produce additional flooding along their banks.
Residents in flood prone areas near the rivers and counties listed below should be prepared to move to higher ground if local authorities advise to do so.
Alapaha basin - widespread flooding ongoing and likely to get much worse in Hamilton County
Aucilla River - at least minor flooding expected at Lamont
Chipola River - at least moderate flooding expected near Altha
Ochlockonee River - at least minor flooding expected at all station
Santa Fe River - at least moderate flooding expected near Three Rivers Estates
Suwannee River - at least minor flooding now expected at all stations
The cold front will pass through the state Friday night, but the chance for lighter rain showers will linger in north and central Florida through Saturday morning. Drier conditions (and sunshine) will return to the Sunshine State Sunday, as the upper level low pulls away from the Southeast.
Unlike the previous two storms, temperatures will not cool as much behind Friday's front because it's taking a different track. The air moving in over the weekend is coming more from the west, rather than the north, and will yield temperatures that are only slightly below normal for this time of year in most areas Sunday and Monday.