Multiple rounds of showers and thunderstorms are likely across Florida over the next three days, thanks to a slow-moving front that could produce heavy rain in some areas.
The rain could be welcome news to farmers in the Florida Panhandle Monday night and Tuesday, who are dealing with a moderate or severe drought. However, the heaviest rain is likely to fall a little farther south Tuesday night and Wednesday, across portions of North-Central Florida where up to three inches is possible.
Good News for Some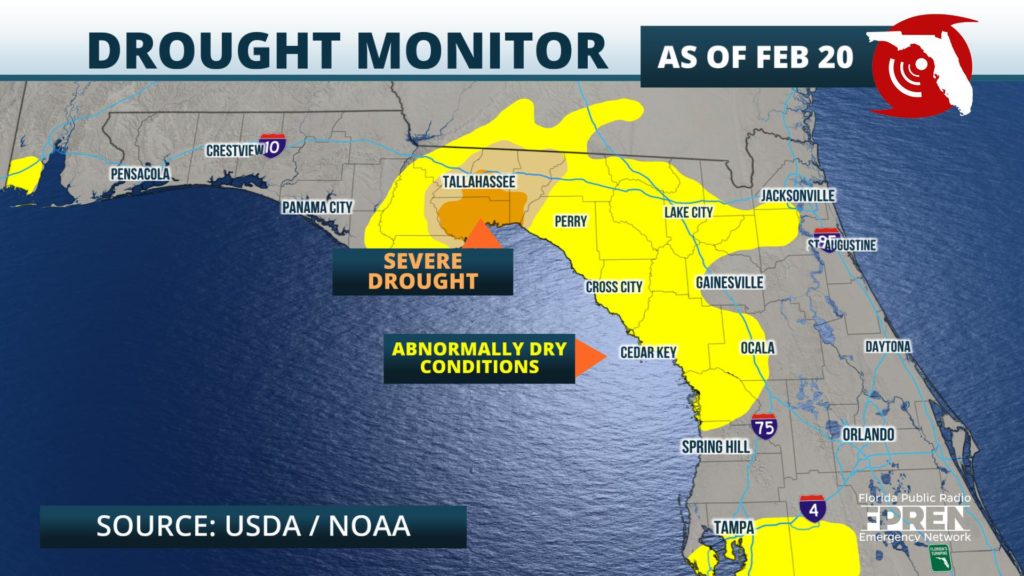 The winter months are typically much drier in Florida than in the summer, but this season has been unusually so in Florida's Big Bend region. Last week, the USGS has classified a large area from the Apalachicola River to the Nature Coast as abnormally dry. Embedded within that area were localized spots of moderate drought, with Wakulla County's situation even being classified as "severe". According to NOAA's Regional Climate Center, this area will require at least four inches of rain to completely erase the deficit. However, only some of that is expected from this week's front.
Heavy Rain is Possible
The storm system approaching Florida this week first moved over the Desert Southwest Sunday, where it dumped record-setting rainfall in Phoenix, Arizona. The area of low pressure was expected to intensify in the Central Plains Monday, before moving into the Ohio Valley Tuesday. A cold front is then forecast to sweep across the Deep South Tuesday night and Wednesday, but slow down considerably as it moves through.
Winds from the southwest at nearly all layers of the atmosphere will aid in the transport of deep amounts of moisture into Florida ahead of the front. This could lead to several rounds of heavy rain in some areas, especially where the front might even stall temporarily across North-Central Florida. A piece of energy is then likely to cause the front to accelerate again as it moves across Central Florida Wednesday, before exiting the state through South Florida Wednesday night.
The When and Where
Showers were beginning to push ashore along the Emerald Coast Monday afternoon, and a few thunderstorms are expected to develop farther east toward Panama City and Tallahassee Monday evening. Here is a look at a Future Radar animation through Tuesday morning.
Showers are likely to spread across Florida's Big Bend and Nature Coast regions Tuesday, then become heavier and steadier as the front slows down Tuesday afternoon. The heaviest rain with this system is then likely to fall near and roughly 30 miles either side of a line from Cedar Key to Ocala to St. Augustine Tuesday night. In this corridor, widespread rainfall amounts of two inches are expected, with locally higher totals up to three inches possible. A few strong thunderstorms are also possible, although atmospheric conditions are not expected to be conducive for severe weather at the time.
The cold front is forecast to weaken some as it accelerates toward Central Florida Wednesday, when periods of rain and a few rumbles of thunder will be possible in cities such as Tampa, Orlando and Melbourne. The showers will continue marching south toward the South Florida cities of Fort Myers, Naples, West Palm and Miami Wednesday night.
Drier and much colder weather is forecast to sweep across the Sunshine State Thursday and Friday. Below normal temperatures are then expected to continue through the weekend.