Rainy season can't come soon enough for parts of Florida, and it will likely get an early start this year.
Most of South Florida is in a minor to moderate drought, with a severe drought encompassing parts of Miami-Dade, Broward, Collier and Lee counties.
High pressure, which has kept the state dry, will break down Saturday, allowing a level low pressure system to develop in the eastern Gulf of Mexico.
As this feature drifts north, deeper moisture will spread south to north across the state beginning Saturday evening. The storm system is expected to linger near the state for several days, and as a result, several rounds of showers and thunderstorms are expected over the next 5 days.
As of Saturday morning, showers had already begun near Key West, Miami and Naples. They could become heavier in these areas by Saturday evening.
Rain chances will on the rise in Orlando, Melbourne and Tampa by Sunday afternoon, where some stronger thunderstorms may even develop.
The wet weather will move north toward Gainesville and Jacksonville Sunday Night and Monday, then spread west toward Tallahassee and Panama City on Monday.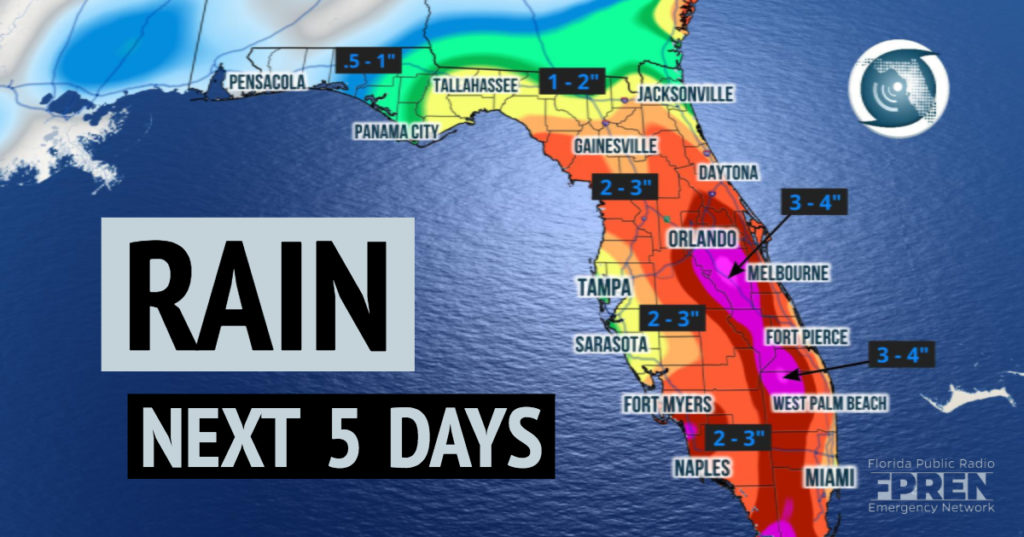 Several days of showers and downpours could help alleviate drought conditions in many areas. Two to three inches of rain is likely to fall in most areas south of I-4 through Thursday, with locally higher amounts possible near coastal areas between Melbourne and Miami. North of I-4, rainfall totals will be between 1 to 3 inches over the next five days.