Florida could use a break. From the rain, that is. If you had any doubt the severe drought is over, this animation from the past month should help.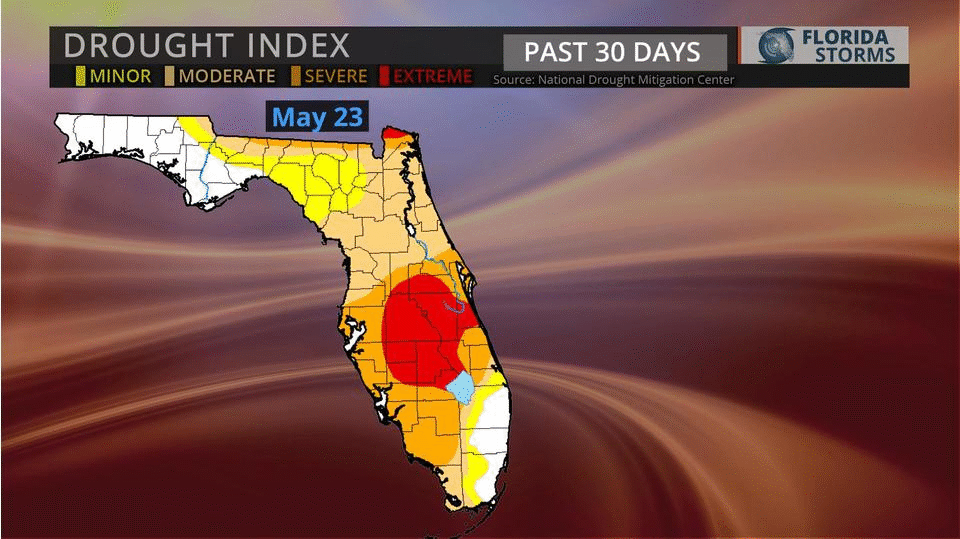 Not only is the drought over, the June deluge has been relentless. In many cities, more rain has fallen in the first 23 days of June than in the 230 prior, dating back to Hurricane Matthew.
Top Five Rainiest Cities in June (compared to normal)
[vcex_leader leaders="%5B%7B%22label%22%3A%22Pensacola%22%2C%22value%22%3A%2218.21%20in.%20(%2B13.60)%22%7D%2C%7B%22label%22%3A%22Gainesville%22%2C%22value%22%3A%2214.52%20in.%20(%2B9.42)%22%7D%2C%7B%22label%22%3A%22Miami%22%2C%22value%22%3A%2213.30%20in.%20(%2B6.23)%22%7D%2C%7B%22label%22%3A%22Tallahassee%22%2C%22value%22%3A%2211.74%20in.%20(%2B6.18)%22%7D%2C%7B%22label%22%3A%22West%20Palm%20Beach%22%2C%22value%22%3A%2210.29%20in.%20(%2B4.15)%22%7D%5D" css_animation="top-to-bottom" label_font_weight="semibold"]
Editor's note:  Meteorologist Amanda Holly contributed to the data in this report. Rainfall totals are from the National Weather Service official reporting stations and the Southeast Climate Center.
The most notable turnaround has been in Gainesville, currently on track to break a monthly rainfall record for June. As of June 22, 14.52 inches of water has been collected at the regional airport this month alone, nearly two more inches than was recorded during the prior 236 days!Drier days are in the forecast this weekend across Florida.  Well, at least for parts of the state. As the remnants of Tropical Storm Cindy continue to pull away to the north, a stronger ridge of high pressure is sliding in from the Atlantic. Often referred to as the "Bermuda High" this time of year, it is typically accompanied by a drier air mass and produces sinking air. This will act to limit the daily thunderstorms that often form this time of year along the sea breezes.
The lack of rainfall will be most notable on Saturday. However, by Sunday, rain chances will be back on the rise across the northern third of the state thanks to an approaching front.  The wetter-than-normal weather will return to the entire state by Monday and Tuesday as this front stalls.  If more than 1.82" falls in Gainesville by the 30th, it would surpass the June record set in 2012. Much of the rain that year was attributed to Tropical Storm Debby, which resulted in more than 83 million dollars of flood damage in Florida.  [/vc_column_inner][/vc_row_inner]