Disturbance has medium chance, per NHC
Regardless, heavy rain possible statewide
Could last off & on for more than five days
Hurricane Season may more than two weeks away, but the Gulf of Mexico thinks otherwise. A disturbance just west of the Florida Keys has the potential to develop tropical characteristics as it drifts slowly north in the coming days. Regardless, periods of heavy rain are likely across most of the Sunshine State over the next five days.
The National Hurricane Center issued a special statement Sunday, highlighting the areas of disturbed weather as having a "medium chance" of development.
Special Tropical Weather Outlook
NWS National Hurricane Center Miami FL
340 PM EDT Sun May 13 2018

For the North Atlantic...Caribbean Sea and the Gulf of Mexico:

A large area of cloudiness, showers, and thunderstorms extending
from western Cuba across the southeastern Gulf of Mexico, the
Florida Straits, and much of the Florida Peninsula is associated
with a broad surface low and trough interacting with an upper-level
low. This system could acquire some subtropical or tropical
characteristics while it moves slowly northward across the eastern
Gulf of Mexico during the next few days. Regardless of subtropical
or tropical cyclone formation, this system will enhance rainfall
across portions of Florida and the northeastern Gulf Coast during
the next few days. For more information on this system, please see
products issued by your local weather office. The next Special
Tropical Weather Outlook on this system will be issued by 11 AM EDT
Monday.
* Formation chance through 48 hours...low...30 percent.
* Formation chance through 5 days...medium...40 percent.
Forecast data Sunday evening suggests an area of low pressure will form just off the west coast of Florida Monday, then drift slowly northwest toward the Florida Panhandle by midweek. While upper level winds and sea surface temperatures aren't particularly conducive for robust tropical storm formation, the system may acquire some tropical characteristics (and become "subtropical") before it drifts inland over the northeast Gulf later this week.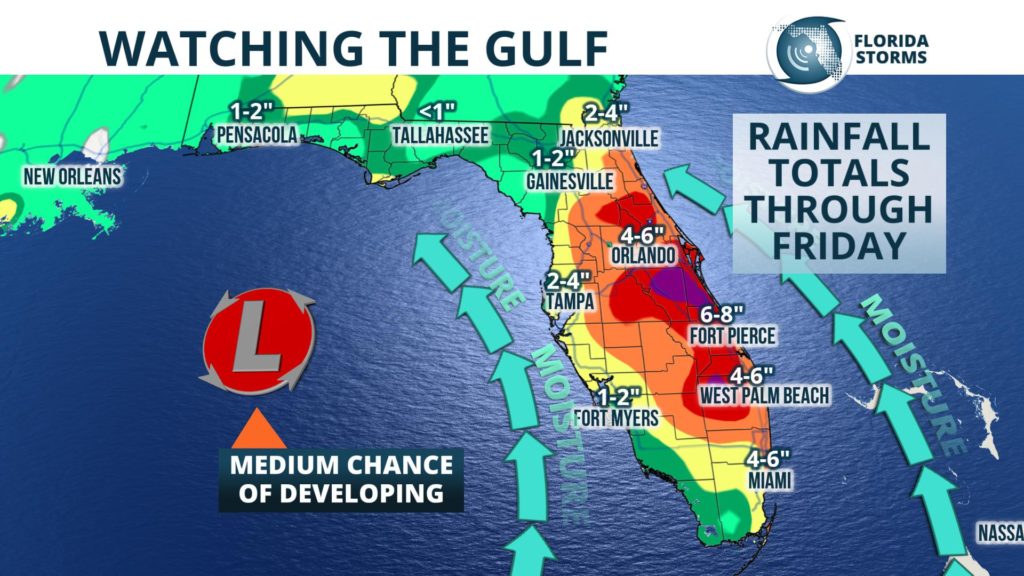 Whether the feature acquires an official name or not, the broad counter-clockwise circulation around it will pull tropical moisture northward, converging on the peninsula from both coasts. This will likely lead to long-lasting periods of light to moderate rain, with heavier downpours and thunder possible at times. The heaviest rain is likely to fall across portions of south and central Florida Monday, then spread into the northern two-thirds of the state, including the panhandle, Tuesday and Wednesday.The potential pre-season tropical development is also likely to result in an earlier start to the state's rainy season, which typically begins in late May. During this five-month period, usually ending in October, the air becomes unstable and scattered thunderstorms develop each afternoon along inland-advancing sea breeze fronts. In this week's scenario, stronger thunderstorms will be possible at times, but they may not follow the typical rainy season protocol with regards to timing or location.
The rain is welcome news for some, as much of the state has been in a moderate to severe drought this spring. Storm totals from this week's weather system could be over four inches in a large section of east-central and southeast Florida, especially near or just inland from the coast, and some areas may receive as much as six inches of rain by Friday. Elsewhere across the state, this week's total rainfall will range from 1 to 2 inches along the I-10 corridor, to between 2 and 4 inches across northern and western sides of the peninsula.
Only slightly drier weather is expected across the state beyond Friday, as long range forecast data suggests the deep southerly flow may continue through the coming weekend. This could keep the tropical moisture in place and the downpours coming for many more days.