This story has been updated to reflect newer rainfall reports...
---
It has been raining for days along Florida's Big Bend and Nature Coast, where widespread flooding is ongoing and getting worse. A Flood Watch continues for the area through Sunday morning.
The system responsible for the heavy rain is now also being monitored by the National Hurricane Center for possible tropical development. However, if that were to occur, forecasters say it would happen well to the northeast of Florida.
Residents of Taylor, Dixie and Levy counties have been hit the hardest by the heavy rain. Some locations have received nearly two feet of rain since Thursday, according to several reporting stations and radar estimates.
One Florida Storms Facebook follower compares this event to a recent hurricane (which we presume to be Michael).
"We have had almost 20 inches at my house since Thursday pm and still rising. Steinhatchee didn't get this much flooding in the hurricane."

Debbie Evans, Facebook
The WeatherBug station "KFLSTEIN5" in Jenna, FL (less than a mile from Steinhatchee) has recorded a daily total of 16.74" of rain as of 11 pm Saturday. This brings the 3-day total for this site to 28.67".
The rest of the reports below were collected at 11 am Saturday and are provided by various sources.
| | | |
| --- | --- | --- |
| CITY | AMOUNT | SOURCE |
| Steinhatchee | 16.36 in. | WeatherBug |
| Inglis | 13.85 in. | CoCoRaHS |
| Yankeetown | 13.01 in. | WeatherSTEM |
| Cedar Key | 10.68 in. | WeatherSTEM |
| Bronson | 9.65 in. | CoCoRaHS |
| Dunnellon | 7.45 in. | CoCoRaHS |
| Gainesville (7mi SW) | 5.50 in. | CoCoRaHS |
| Williston | 5.25 in. | WeatherSTEM |
| Trenton | 4.30 in. | CoCoRaHS |
| Ocala | 3.26 in. | KOCF (NWS) |
| Gainesville | 2.38 in. | KGNV (NWS) |
Another area of heavy rain was noted on radar data by Meteorologist Megan Borowski Saturday morning stretching from Dixie, Levy and Taylor counties to the First Coast.
Ongoing Flooding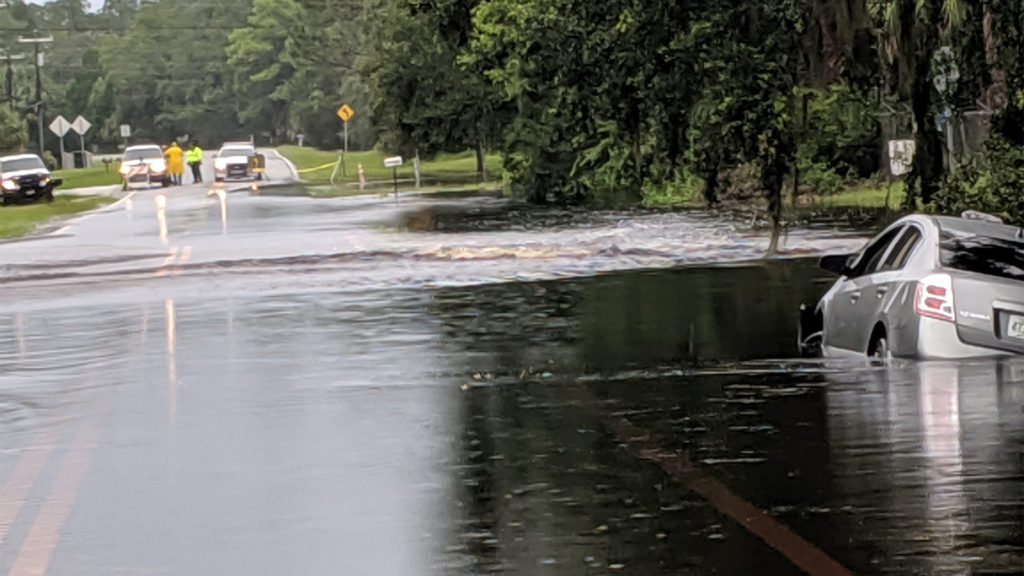 The locations receiving heavy rain Saturday have already experiencing significant flooding. More than 30 roads, some of them well-travelled, were closed by Levy County Emergency Management on Friday. Assistant Director David Peaton expects conditions to worsen Saturday, and he encouraged everyone in the county to use "extreme caution on the roadways" in a press release we received early Saturday.
The Taylor County Emergency Management posted these photos to their Facebook page Friday.
2nd Street in Steinhatchee (Taylor County Emergency Manager John Berg)

2nd Street in Steinhatchee (Taylor County Emergency Manager John Berg)

2nd Street in Steinhatchee (Taylor County Emergency Manager John Berg)
WCTV Meteorologist Charles Roop shared photos sent to him from Steinhatchee on Twitter, also on Friday.
Reason for the Rain
The persistent downpours began Thursday when an approaching front stalled across the Florida Panhandle. Winds began to flow out of the Gulf of Mexico ahead of it, transporting copious amounts of moisture into an already saturated section of the state.
A weak area of low pressure then developed over inland areas of North Florida early Saturday, which prompted the National Hurricane Center to start monitoring it. In his 2 pm Saturday outlook, Senior Hurricane Specialist Lixion Avila said that tropical development, if any, would be "slow to occur" and that it would most likely happen near the coast of Georgia or South Carolina in the coming days.
When Drier Air Arrives
When the potential tropical disturbance moves away from Florida, a gradual drying trend should ensue across the region Sunday and Monday. The atmosphere won't be as unstable (or capable of producing heavy rain) thanks to a slow rise in air pressure. However, the counter-clockwise spin around the departing area of low pressure is likely to keep a broad westerly flow of wind in place across much of Florida into the upcoming work week.
As a result, rain chances will stay elevated, especially for areas near the Gulf Coast, but the persistent heavy rains should cease. However, it should be noted that the occasional downpour might still exacerbate any ongoing flooding situation or result in a slower recession of the waters.