Two months remain in the 2019 hurricane season and climatology suggests forecasters should now closely watch the Caribbean.

There is a 35 percent increase in the proportion of hurricane activity that develops in the Caribbean Sea from September to October, according to NOAA's database of hurricane tracks since 1842. Historical records also reveal that more than half of October and November hurricanes (110 of 201) have moved through the Caribbean. And when a storm enters this body of water, geography alone makes them almost certain to hit land.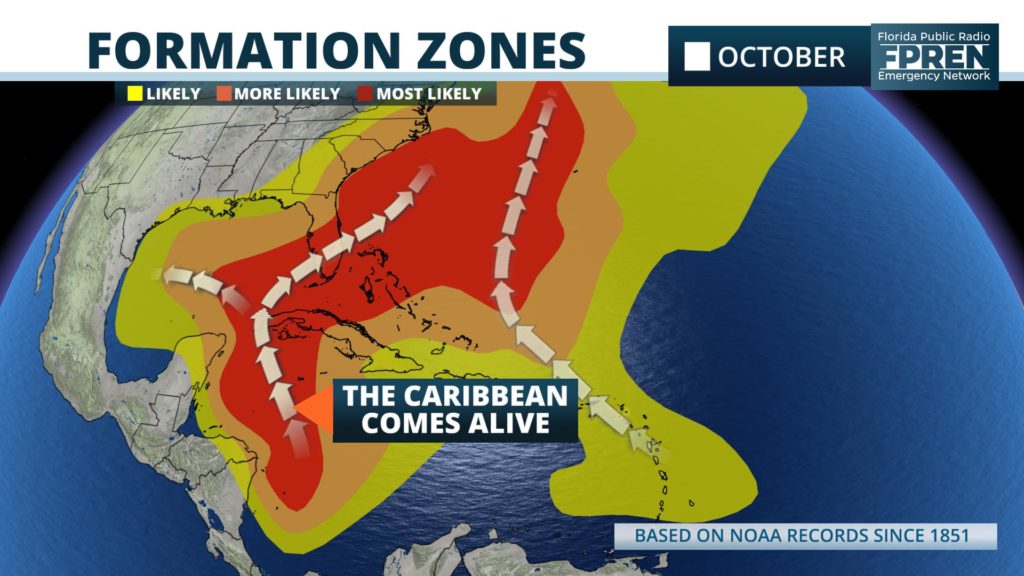 Florida is one of several land areas particularly vulnerable to a landfalling hurricane in October. No one has made this clearer than Doctor Phil Klotzbach on Twitter.
As of Tuesday evening, there were no imminent threats to Florida or the United States from the tropics. The National Hurricane Center has highlighted two areas of interest in their recent 5-day tropical weather outlooks, but both are noted as having only a "low chance" of developing.
[wpv-view name="tropical-outlook"]
Long range data suggests there will be an uptick in thunderstorm activity in the southern Gulf of Mexico and western Caribbean over the next ten days, but reliable forecast modeling has not been consistent on indicating where, if any, a tropical cyclone might form. We would like to remind Floridians that nearly the same number of landfalling hurricanes have occurred in October (37) as September (39).