A strong storm system moving in from the Gulf of Mexico is expected to send clusters of strong thunderstorms across portions of South Florida Sunday evening. Some of the storms could produce damaging wind gusts, or even a tornado.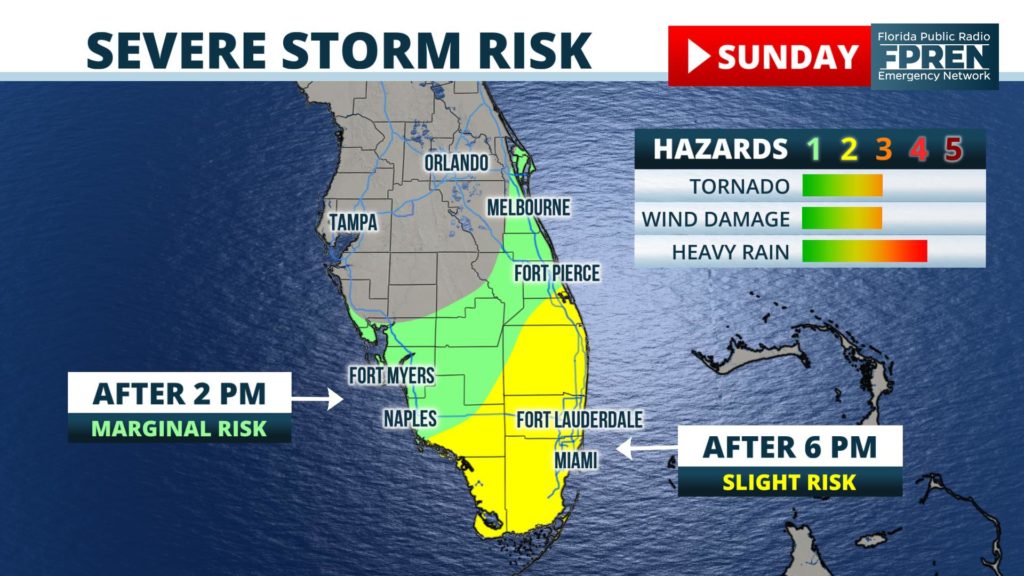 This is the same storm system forecast to produce pockets of heavy rain across the entire Sunshine State through Monday, which could lead to localized flooding.
Forecasters at the Storm Prediction Center updated their prior forecast to a "slight risk" (level 2 out of 5) for areas south of a line from Fort Myers to Fort Pierce, primarily for the time period of Sunday evening and overnight. This is when the atmosphere is expected to become more moist and unstable.
Latest forecast guidance suggests a large cluster of thunderstorms will organize near and just north of the Florida Keys Sunday afternoon. The cells are then expected to move across the Everglades in the evening hours and reach the Atlantic Coast overnight. The strongest storms will be capable of rotating and producing a tornado or damaging wind gusts up to 60 mph.
Nighttime tornadoes are extremely dangerous, especially during the winter when they are often wrapped in rain and can occur with little lightning or thunder. We encourage residents of South Florida to stay informed and ensure they have a way of being notified if a warning is issued. Our Florida Storms mobile app is a great resource, and it's available for free on your mobile phone or tablet.