This story has been updated to reflect the higher chances of tropical development from the National Hurricane Center, and to provide more detail to potential weather hazards in Florida.
---
A tropical wave is becoming better organized just east of Miami, and the National Hurricane Center says a tropical depression or storm could form this weekend.
The system is not expected to be a significant threat to Florida, but periods of heavy rain and unsettled seas are possible in portion of central and south Florida in the coming days.
Forecasters at the National Hurricane Center increased the odds of development to 70 percent in their 8 am Friday tropical outlook.
Satellite and radar data Friday morning revealed the area of low pressure (referred to by meteorologists as Invest 98) was located just east of the upper Florida Keys and drifting slowly to the northwest. Showers were off to an early start this morning near Miami, thanks to an onshore flow and increase in moisture from the nearby disturbance.
System stays offshore
Invest 98's proximity to land and interactions with a nearby pocket of dry air may inhibit near-term organization and development. However, forecast data suggests the environment surrounding it will become more favorable for a tropical depression to form by Saturday or Sunday as it moves back over water east of Florida.
Model simulations from that same data are also all in agreement that the system would stay east of Florida and eventually turn more to the northeast. The tropical wave, now referred to as "Invest 98" by meteorologists, is not a direct or significant tropical threat to The Sunshine State.
Minor Hazards in Florida
Regardless of its tropical status, tropical moisture is likely to be pulled into portions of south and central Florida on Friday and Saturday. This could result in periods of heavy rain and stronger thunderstorm activity at times, especially in areas near and east of I-95 from Melbourne to Miami.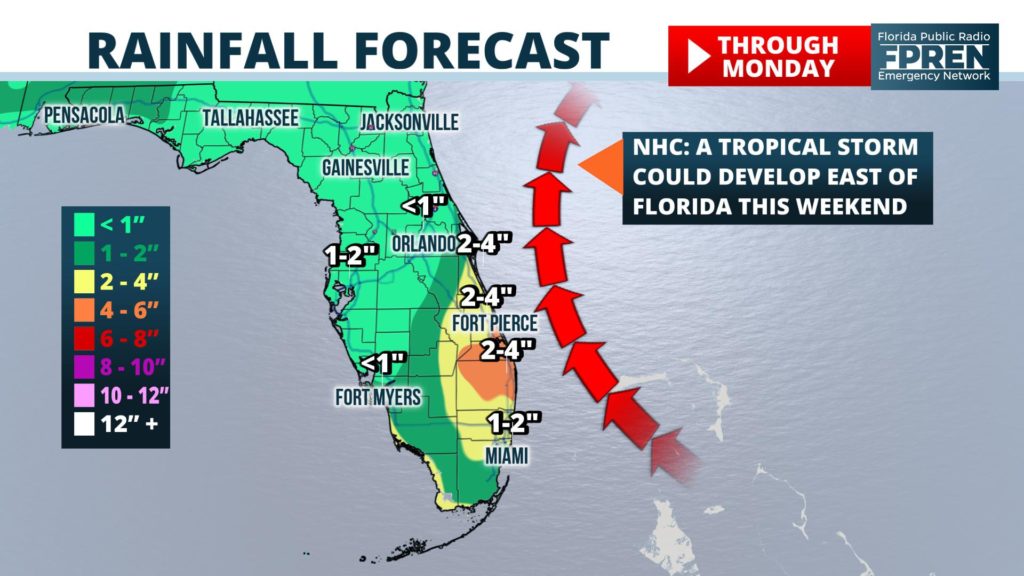 A deeper east-to-west wind pattern, a byproduct of Invest 98's circulation, could also aid in the development of strong thunderstorm activity along an Atlantic Coast sea breeze as it moves toward west-central Florida in the afternoon or early evening hours. Some of the storms along this boundary may be capable of producing damaging wind gusts as they approach cities such as Tampa, Sarasota and Fort Myers. This could happen Friday, Saturday and Sunday afternoons.
Choppy seas and a high risk of rip currents are also in the forecast at most Atlantic Coast beaches this weekend. Local authorities and forecasters at the National Weather Service are urging all water enthusiasts, especially beach-goers and inexperienced swimmers, to use caution when entering the water. Conditions are forecast to gradually return to normal as the system pulls away early next week.