Hotter than normal temperatures and high humidity, combined with the absence of typical afternoon storms, will lead to a prolonged period of dangerous heat across the Florida Panhandle and portions of North Florida beginning Thursday.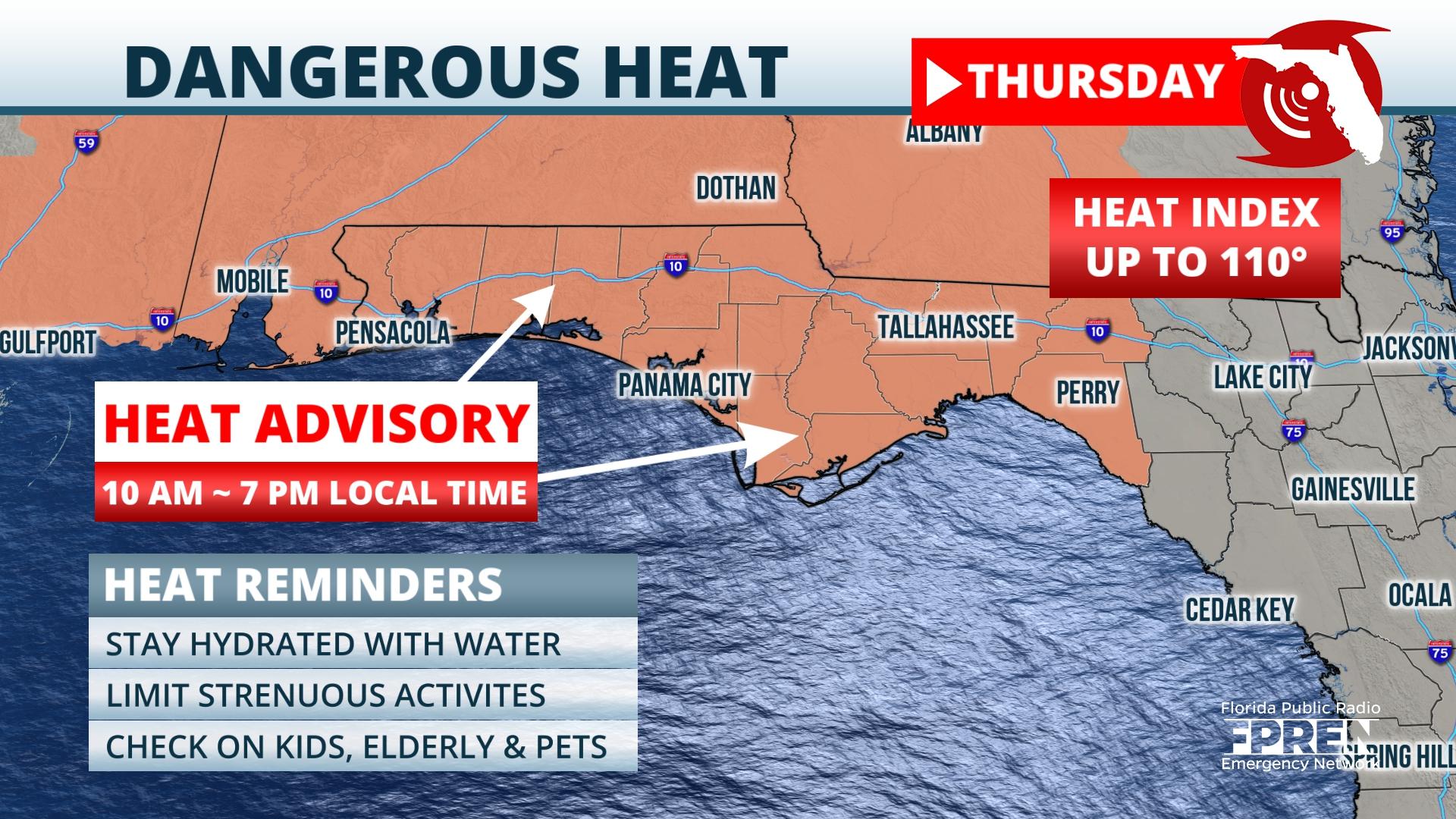 The National Weather Service has issued a Heat Advisory beginning at 10 am local time Thursday for the entire Panhandle and for areas as far east as Madison and Taylor counties. The advisory includes the cities of Pensacola, Crestview, Panama City and Tallahassee, including the Emerald Coast and Florida's Big Bend.
Heat indices (often referred to as "feels like" temperatures) are expected to rise above 100º in most areas by late morning, potentially peaking as high as 108 to 111º by late afternoon.
Numbers this high have been proven to make heat-related illnesses more likely, especially in those who are more sensitive to the heat such as the elderly or young children. Heat-related illnesses can be prevented by wearing lightweight and light-colored clothing, staying indoors and in the air conditioning as much as possible, and taking frequent breaks to drink plenty of water if being outdoors for an extended period of time is necessary.
High heat and humidity is also expected across portions of north and northeast Florida Thursday afternoon, where the heat index could briefly top 105º in cities like Lake City, Gainesville, Ocala and Jacksonville. However, the presence of more afternoon showers and thunderstorms should limit the duration and magnitude of the intense heat.
Similar conditions are expected in the same areas Friday and Saturday, and the advisories are likely to be issued or extended on those days as well according to forecasters at the National Weather Service. An uptick in shower and thunderstorm coverage will begin Sunday, which is likely to produce more cloud cover and bring an end to the heat wave by early next week.